GamesAid's big October raises more than £50,000 for great causes!
October was a busy, busy month for the GamesAid team and trustees. But their hard work has quite literally paid off, with the charity raising over £50,000 across three fantastic fundraising activities over the course of the month.
We kicked a busy month off with the biggest ever GamesAid Tombola at EGX in London. Our previous tombola at Develop raised £7,000 but our October edition smashed that, raising a whopping £13,000 in the process. 
And if that wasn't enough, an extraordinarily generous donor visited the stand and made an on the spot donation of £10,000 – changing lives and leaving us all a bit teary in the process.

Speaking of celebratory tears, the GamesAid community also got together for the second GamesAid Gala Dinner – sponsored by Antsream Arcade, Bastion and Hangar 13 – to both highlight the life-changing work of our five charities (AfK, Access Sport, Autistica, Game Therapy UK and Solving Kids' Cancer) and to support their missions.

Over 170 industry guests attended an evening packed full of speeches, videos, entertainment and an award for GamesAid ambassador Cat Channon. And by the end of the evening, we're delighted to say that we raised over £30,000 for fantastic causes.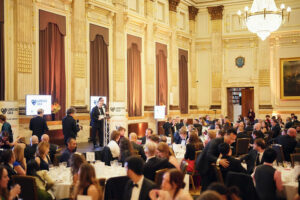 Finally, we also saw the latest GamesAid bake-off take place across the country. Featuring a spooky theme, we were delighted to see studios up and down the country contribute to the cause with the team at Sumo Digital leading the way with their scary sweet treats.
While we're coming to the end of our year, the opportunities to fundraise aren't over just yet. We're looking for great items for our 12 Days of GamesAid Christmas Ebay sale, which kicks off on the 1st December. If you have a brilliant one of a kind experience or piece of merch to donate to the cause, email us here .
And if you want to set up your own fundraiser, or just donate straight to the cause, head over to JustGiving and get going for GamesAid.
We're enormously grateful for all your generosity in October; let's keep the good vibes going in the run up to Christmas