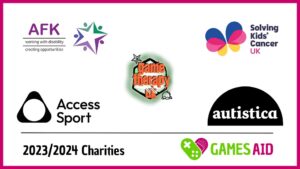 GamesAid Charities announced for 2023/2024
Five causes selected by GamesAid members for the charity to back this financial year
Access Sport, AFK, Autistica, Game Therapy UK and Solving Kids Cancer have been selected as the five causes that GamesAid will back in 2023/2024.
The five causes received the most votes of the GamesAid membership in this year's ballot of members, with each charity set to receive in kind support throughout the year and a cash donation at the end of the financial year.
Three of the charities – Autistica, AFK and Solving Kids Cancer – return from last year's cohort. Access Sport is returning as a backed charity after previously receiving support from the GamesAid community, with Game Therapy UK receiving support for the first time.
Helen Rowbotham, Chief Executive, Access Sport:
"It means so much to us to be selected as one of GamesAid's chosen charities this year! With the support of the GamesAid community, Access Sport will be launching a new basketball project that will transform the health and wellbeing of disabled and disadvantaged children and young people in London.
I would like to thank every single person who voted for Access Sport. We really value our relationship with the video games industry and together, we can have a hugely positive impact on the lives of disabled and disadvantaged young people."
Lyn Prodger, Corporate Partnerships Manager, AFK:
"Everyone at AFK is just delighted to be selected as a GamesAid charity partner for 2023/24. Sincere and heartfelt thanks to everyone in the industry who voted for us and to those who raise vital funds and volunteer their time to support the disabled children and young people here. We are excited to work with GamesAid and their amazing charity partners to make a massive difference together".
Giorgia Molinari, Head of Corporate and Games Partnerships, Autistica:
"We know games can be a lifeline for many autistic children who are having to navigate a world that isn't set up for their needs. There are also many talented autistic people working in the Games industry so we are absolutely thrilled to partner with GamesAid once again! Their support this year will help drive forward our 2030 Goals which represent the change we and the autistic community want to see in the world over the decade."
Gary Colman, Chairman, Game Therapy UK:
'Game Therapy UK is delighted to be partnering with GamesAid to provide a wide-range of therapeutic gaming projects to young people across the country. This includes online cooperative games to combat social isolation in young people with autism and after-school games clubs for socially excluded kids and young people. We know that these opportunities can be life changing'.
Gail Jackson, Chief Executive Solving Kids' Cancer:
"It truly is an honour for us to be included as part of the GamesAid family. This relationship means so much to us and the children and families we support. Children with neuroblastoma and their families are faced with immense challenges and as a small charity we are continually challenged to find the resources we need to ensure we can continue to be there to support them when they need us the most. We believe that GamesAid and its members truly understand this and help to make our families feel seen and heard. We are so excited to be working with you again this year, thank you so much to everyone who voted for us."
Terry Haynes, Co-Chair of GamesAid said:
"We're really pleased to be backing five fantastic causes this year and to support their work helping disadvantaged young people across the UK. We also want to thank all of the other charities for participating in the process and to encourage them to do so again next year.
Finally, we want to say a big thank you to every GamesAid member for voting in the election and to encourage everyone to get involved to raise money for these amazing charities this year."
The selection of the charities for 2023/2024 follows the announcement that GamesAid raised £120,000 for the six causes it backed in 2022/2023. This means the charity has now raised £4.32m for charities since it was first founded.
For more information about GamesAid, including a range of forthcoming fundraising activities and details on how to become a member to support our mission, head to www.gamesaid.org.
About GamesAid
GamesAid is a UK based video games charity (Registered UK Charity #1081706) which acts as an umbrella to support a number of smaller charities who help disadvantaged and disabled children and young people.
Members of the games industry propose a range of charities to receive support from the UK games industry, with the members of GamesAid democratically selecting a number of organisations to back each year.
Access Sport, AFK, Autistica, Game Therapy UK and Solving Kids Cancer have been selected as the five causes that GamesAid will back in 2023/2024.
Website: https://www.gamesaid.org/
Contact: opsco@gamesaid.org