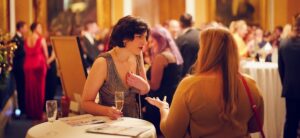 GamesAid Gala Dinner – £26,800 raised for children's charities; Sumo Group announced as first corporate sponsor of charity
Sheffield development giant commits to supporting day-to-day running of charity to enable further fundraising for its good causes at GamesAid's first celebratory black tie dinner
Wednesday 7th December 2022: The first ever GamesAid gala dinner raised an incredible £26,800 for six amazing children's charities.
The event, which was supported by Curve Games and the Publisher Collective and took place at the Institute of Directors on Wednesday 30th November, brought together nearly 200 representatives of the UK games industry for a celebratory black tie dinner to toast 15 years of fundraising through the charity.
Across the evening, attendees had an opportunity to hear first hand about the work of GamesAid's selected causes for 2022/2023 – AFK, Autistica Play, Lifelites, Solving Kids Cancer, The Clock Tower Sanctuary and Winston's Wish – and fundraise for them through a silent auction and raffle.
As a result of the industry's generosity, each charity is set to receive nearly £4,500 to support their invaluable work helping children across the UK.
In addition to the fundraising, GamesAid also announced that Sumo Group has become the first corporate sponsor of the charity. 
The BAFTA award winning company, which is one of the largest game creators in the UK, has agreed to directly support part of the day-to-day running costs of the charity for two years.
This is part of a wider push by the GamesAid trustees to strengthen the supporting structures around the charity to ensure that its range of industry champions can put fundraising first.
The aim is to bring on board additional corporate sponsors to fully cover its annual costs, ensuring that all its efforts can be confidently devoted to the children's charities that the organisation supports each year.
"We're delighted to receive such an important show of support in our work from Sumo Group," said George Osborn, Co-Chair of GamesAid. "Its backing is a welcome boost to our efforts to ensure GamesAid can dedicate all its time and effort to supporting its charities and we look forward to working with the likes of Sumo to achieve that."
"We're excited to be supporting GamesAid as one of Sumo Group's charity partner in to 2023" said Christina Haralambous, Group Director of Marketing and Communications at Sumo Group. "Every small thing we do could make a big difference and our studios will again help to raise vital funds for the children and young people the charity supports."
The GamesAid Gala Dinner is set to return on Wednesday 22 nd November 2023. Email trustees@gamesaid.org if you'd like to find out more about next year's event.
About GamesAid
GamesAid is a UK based video games charity (Registered UK Charity #1081706) which acts as an umbrella to support a number of smaller charities who help disadvantaged and disabled children and young people. 
It is a non-trading body, administered by Trustees who operate on a fixed term basis run by a chair who is also appointed on a fixed term. As the only fully democratic charity in the games space, members of the games industry propose and vote for the charities of their choice annually.
The causes selected for 2022 are AFK, Autistica Play, Lifelites, Solving Kids Cancer, The Clock Tower Sanctuary and Winston's Wish.