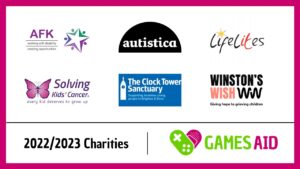 The GamesAid's members have now voted on six fantastic charities this year 2022/2023
GamesAid Selection Process - members back AFK, Autistica Play, Lifelites, Solving Kids Cancer, The Clock Tower Sanctuary and Winston's Wish for 2022/2023
The six causes that GamesAid members have chosen to back will receive both a donation at the end of this financial year from the charity's fundraising efforts, as well as one-to-one support from the GamesAid trustees to connect them up with the games industry.
While the selection process initially sought to select five charities, the GamesAid trustees voted in favour of extending it to six after two causes tied for fifth place in the membership vote which concluded on Sunday 26th June.
The six causes that the industry chose to back are as follows:
AFK – Working with Disability: A charity that supports disabled children and young people by providing mobility equipment, education, training, employment support and promoting self-advocacy.
Autistica Play: The UK's autism research charity, Autistica Play works with the games industry and players to build long, happy, healthy lives for autistic people.
Lifelites: A charity that gives life-limited and disabled children using hospice services across the country the chance to play, be creative, control something for themselves and communicate through the magic of assistive technology.
Solving Kids Cancer: The charity fights for a future where no child dies of neuroblastoma or suffers due to its treatment.
The Clock Tower Sanctuary: A Brighton based drop in centre and sanctuary for 16-25 year olds who are homeless or insecurely housed.
Winston's Wish: The UK's childhood bereavement charity, who support children and their families after the death of a parent or sibling.
As well as supporting young disadvantaged people across the country, each charity had a turnover of less than £3m and spent 30% or less of its cost on administration – ensuring that funds donated by the industry have a greater impact.
This is also the first time in GamesAid's history that causes have been selected at the start of the financial year, with the intention of providing greater clarity to the industry about the causes it will support through fundraising events and activities across the year.
Commentary from GamesAid and our selected charities about the conclusion of this year's selection process
"It's difficult to find the words to express how much this means to everyone at AFK. We wish we could personally thank every single person who voted for us. The incredible support we have had from GamesAid and the industry over the years has really changed so many lives by enabling disabled children and young people to receive the perfect item of mobility equipment and high quality life and employment skills training. Thank you GamesAid." – Lyn Prodger, Corporate Partnerships Manager, AFK
"We are absolutely thrilled to have been selected as one of the chosen charities for Games Aid 2022/2023. Thank you to everyone that voted for us. It's an honour to be working together to support and empower autistic people through games." James Cusack, CEO, Autistica.
"We are so delighted to have been voted one of the charities that GamesAid members would like to support this year. Children with life-limiting and life-threatening conditions using hospice services really benefit from the gaming and other technology that we donate. Your support this year will mean the world to these children. Thank you so much." Samuel Davies, Head of Fundraising and PR, Lifelites
"Solving Kids' Cancer UK is honoured to be selected as one of GamesAid's charities this year, alongside the other wonderful organisations.
The ongoing commitment and support we have received from GamesAid has had a significant impact on our work, this support will help ensure we can continue to focus on our purpose to support the children and families affected by neuroblastoma and retain the long-term vision of a world without neuroblastoma.
We want to pay particular thanks to all GamesAid members who have supported us with nominations and votes – your ongoing support means the world to us – thank you." Gail Jackson, CEO Solving Kids' Cancer UK
"It means so much to us to have been chosen by GamesAid members to be one of their charities in 2023. We just couldn't do the work we do for young people experiencing homelessness without the support of the community and we appreciate each and every one of you who voted for us.'
The Clock Tower Sanctuary (CTS) is the only day centre in Brighton & Hove for 16-25 year olds who are experiencing homelessness. We open five days a week and we're there to provide a stable, reliable space where young people in crisis feel safe and get the practical and emotional support they need. We support 150-200 young people per year and post Covid, we are also seeing higher numbers of people with multiple, complex needs. As an organisation we want Brighton & Hove to be a city where young people's experience of homelessness is rare, brief and non-recurring." Frances Duncan, CEO, The Clock Tower Sanctuary
"Games can offer grieving children and young people a place to escape, express themselves and engage with others, building a support system. We value the importance of gaming within the work that we do at Winston's Wish, the UK's leading childhood bereavement charity, which is why we're delighted to have the support of GamesAid this year.
In addition to the fundraising that will help us to increase the number of children and young people we can reach across the UK, we look forward to working together to shed a light on the huge benefits that gaming can provide for all those that we support."
Paul Moore, Director of Fundraising & Marketing, Winston's Wish
"I'm staggered by the range of amazing work that GamesAid's selected causes for 2022/2023 do to support young people in their communities and humbled that we have such a great opportunity to support their endeavours. I encourage everyone in the UK industry to find one way to boost GamesAid's fundraising efforts this year – whether through donating, attending one of our events or supporting our forthcoming bundles – to help us back these great charities and demonstrate how much good games can do." George Osborn, Co-Chair of GamesAid.