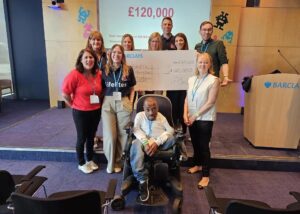 GamesAid raises £120,000 for its causes in 2022/2023
AFK, Autistica Play, Lifelites, Solving Kids Cancer, The Clock Tower Sanctuary and Winston's Wish each receive £20,000 from UK games industry charity
Friday 26th May 2023 – GamesAid has announced that it has raised £120,000 for the causes it supported in 2022/2023.
The total, which was announced at the conclusion of the Barclays Games Frenzy event, was raised by the charity through its range of fundraising events, sales of merchandise through the eBay store, grassroots fundraiser and support from charity sponsor Sumo Group.
As a result, GamesAid will be making six donations of £20,000 to AFK, Autistica Play, Lifelites, Solving Kids Cancer, The Clock Tower Sanctuary and Winston's Wish to support the life changing work they do on behalf of disadvantaged children and young people across the UK.
The total raise was also more than £20,000 more than the charity raised in 2020/2021 and 2021/2022 combined, as GamesAid recovered from the challenges of the pandemic to return to a full calendar of fundraising activities.
Comment from our charities about the impact of the donation on their causes:
Lyn Prodger, AFK – "Thank you to the amazing GamesAid trustees, ambassadors, sponsors, fundraisers and donors from everyone at AFK. A donation like this makes simply the biggest difference to the lives of the disabled children and young people we work with every day. You are helping us to provide the perfect item of mobility equipment, good careers guidance and practical support, mental health and wellbeing help and the assistance needed to get into paid work".
Giorgia Molinari, Autistica Play – "Over 40% of autistic children have a learning disability and 1 in 3 speak few or no words until secondary school, limiting opportunities to participate in society and having their needs met. GamesAid funding this year can help us understand how to support them by developing best-practice guidelines and resources for parents and professionals to help them thrive."
Gloria Di Martino, Lifelites  – "This years' GamesAid donation will help us to deliver gaming technology into children's palliative care services, including every single children's hospice service across the British Isles. The assistive technology we donate comprised of playstations, xbox, adaptive controllers and inclusive specialist joysticks allows to make gaming more accessible giving children and young people with life limiting conditions unforgettable moments of connection and joy."
Gail Jackson, Solving Kids Cancer – "On behalf of everyone at Solving Kids' Cancer UK, I would like to express our gratitude to GamesAid. With this generous donation, you are helping us to reach all families of children diagnosed with this cancer anywhere in the UK; offering emotional, practical and financial support when they need it the most. Thank you, GamesAid, for standing beside us and working towards a future where no child dies of neuroblastoma or suffers due to the treatment they receive."
Frances Duncan, The Clock Tower Sanctuary – "The Clock Tower Sanctuary will be using the donation to ensure that we can keep our doors open for young people experiencing homelessness and continue to provide them with a safe space, lifesaving crisis support and help to move on from homelessness."
Louisa Hancox, Winston's Wish – "We are enormously grateful for the support and generosity from all those involved with GamesAid.  The death of someone important is one of the most traumatic situations for a child or young person to endure, but with our help they can face their future with hope.  We will put this much needed funding toward our vital one-to-one work with our bereavement support workers and young people who have experienced a devastatingly traumatic bereavement."
Terry Haynes, Co-Chair of GamesAid said: 
"We're so pleased to have raised such a substantial amount of money on behalf of these wonderful causes. This fundraising total is testament to the kindness, generosity and open-heartedness of the UK games sector. We look forward to seeing the wonderful positive impact this will have on the causes chosen last year."
For more information about supporting GamesAid, please visit www.gamesaid.org.